Difference between revisions of "SQTS"
Jump to navigation
Jump to search
 

m

 

(6 intermediate revisions by the same user not shown)
Line 1:
Line 1:
−

There is controversy whether short QT intervals are associated with sudden death. One trial found QTc intervals < 300ms to be associated with sudden death.<cite>Gaita</cite> However, a recent Finnish study in a random selection of healthy subjects (n=10 822) did not find an increased incidence of sudden death in patients with short QTc intervals. They defined QTc < 320ms as 'very short' and QTc < 340ms as 'short'. In total, 15 deaths occured in the group with QTc <340ms, with only one possible sudden death (cause of death unknown). They used Friderica's method for QTc correction: [[Image:Fridericia.png|100px]].<cite>Fridericia</cite> They conclude that the ECG is not a good screening tool to find patients with a short QTc interval at risk of sudden death.<cite>Anttonen</cite>

+

. <

−

[[File:Sqts.svg|thumb|Precordial ECG tracings of a patient with SQTS]]

+

 

 
+

<></>

 
+

 

 
+

a an increased of death.

 
+

 

 
+
 
+
 
+

short , in the one().

 
+

 

 
+
 
+

:

 
+
 
+
 
+

 

 
+
 
+

[[Image:.png|]]

 
+

. the a patients a at .  

 
+

 

 
+
 
+

[[:.svg|thumb|

 
+

of

 
+

 

 
+
 
+

a

 
+

 

 
+
 
+

with SQTS

 
+

 

 
+

 

 

== References ==

 

== References ==

 

<biblio>

 

<biblio>

−

#bazett Bazett HC. ''An analysis of the time-relations of electrocardiograms''. Heart 1920;7:353-370.

+

#pmid=

−

#Lepeschkin pmid=14954534

+

#pmid=

−

#Gaita pmid=12925462

+

#pmid=

−

#Anttonen pmid=17679619

 
−

#Fridericia Fridericia LS. ''Die Systolendauer im Elektrokardiogramm bei normalen

 
−

Menschen und bei Herzkranken''. Acta Med Scand. 1920;53:469–486.

 
 

</biblio>

 

</biblio>
---
Latest revision as of 07:34, 26 March 2013
Auteur: Louise R.A. Olde Nordkamp
Supervisor: Arthur A.M. Wilde
The short QT syndrome is a very rare syndrome characterized by an abnormally short QT interval and increased risk of ventricular fibrillation and cardiac death.
Clinical diagnosis
The diagnosis is based on the presence a short QT interval, in which the upper limit is mostly set on 330 ms. Males are more often affected than women. A history of cardiac arrest is present in one-third. Patients are at risk for both atrial arrhythmias (AF) and ventricular arrhythmias (VT/VF).
Physical examination
Patients can present with symptoms of arrhythmias:
Out-of-hospital-cardiac-arrest
Syncope, pre-syncope (weakness, lightheadedness, dizziness)
ECG tests

The ECG demonstrates a corrected QT interval significantly below the limit of normal (<330 ms). Additionally, notable ECG findings are the presence of a sharp T-wave beginning at the end of the QRS complex, preceded by a brief or absent ST-segment. Exercise electrocardiographic studies in SQTS patients also characteristically reveal a non-physiologic lack of QT shortening at increased heart rates.
Genetic diagnosis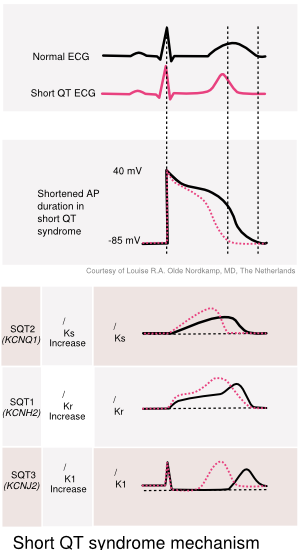 In a quarter of the patients a mutation is found, predominantly in the KCNH2 gene (SQTS1). This gain-of-function mutation causes an increase in the potassium efflux and, subsequently, to a decrease of the myocyte refractory period. Mutations in the KCNQ1, KCNJ2 and possibly CACNxxx genes are also associated with the SQTS.
Risk Stratification
Risk stratification in SQTS is still ill-defined and should be done by a specialized cardio-genetic cardiologist.
Treatment
Hydroquinidine is suggested for normalization of the QT interval in patients with a KCNH2 mutation. ICD therapy is advised in SQTS patients for secondary prevention of sudden cardiac death and could be considered
References
Error fetching PMID 16926178:
Error fetching PMID 21798421:
Error fetching PMID 20716721:
Error fetching PMID 16926178:
Error fetching PMID 21798421:
Error fetching PMID 20716721: